Choosing the right vacuum for your floor is a daunting assignment as floors are made with different materials, which have specific cleaning needs. Our floors need to be clean and sparkling but to achieve that, we need to first get the appropriate cleaning appliance.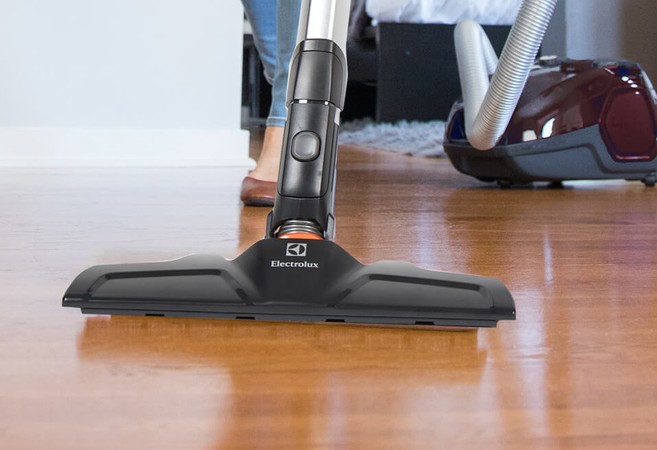 Analyze your floor, the material, its cleaning needs, and the best vacuum cleaner to remove dust and dirt off the surface. Also, look at the various costs, types of vacuums, the weather conditions of your area, and your overall cleaning needs. For example, hardwood floors are notorious for collecting dust in corners and require a maneuverable vacuum cleaner. Buying a canister or robot vacuum cleaner will better serve your needs in this case.
Homes with stairs will profit from using canister vacuum as it is lightweight, portable, has a long hose, and is also fitted with a long cord to support flexibility.
But choosing the right vacuum depends on several factors, which not only includes the material of your flooring but also the maintenance needs, the number of different flooring materials in your home, and the size of your home.
Types of Vacuum cleaners
There are 5 different types of vacuum cleaners, all made to meet specific needs and handle different flooring materials. Here are the different types of vacuum cleaners.
Upright Vacuum Cleaner
Upright vacuum cleaners are some of the most popular vacuums in the country, offering basic and advanced features for any type of flooring. An upright vacuum cleaner is designed to handle floors ranging from hardwood to carpet. It is also suitable for large spaces and will cramp smaller areas.
Upright vacuum cleaners are big, upright, with a big hose and long cords to improve ease of use. The upright function helps to keep your spine healthy while the large appliance makes sure that it gets all the dust and dirt in your home.
Warning: keep an upright vacuum cleaner on the floor. Avoid carrying or using it on high surfaces as that may cause injury or may become a burden on your arms.
Canister Vacuum Cleaner
The second most popular vacuum cleaner is the canister. But unlike the upright version, canisters are lightweight and incredibly portable. These vacuum cleaners are manufactured to be mobile and to clean higher surfaces. A canister vacuum cleaner will clean areas ranging from stairs to ceilings and fans. However, be sure to read the safety tips on the vacuum cleaner before first use.
Canister vacuums are usually more expensive as they feature more advanced functions.
A canister vacuum, unlike its larger friend, will clean both big and small areas. Its size makes it suitable for small apartments yet good for bigger homes. It also has powerful suction and is durable if properly maintained.
Handheld Vacuum Cleaner
Handheld is one of the best technological advancements in the modern world. Just like your smartphone, you can carry a handheld vacuum cleaner to tight and small spaces where a traditional vacuum wouldn't reach. Handhelds are suitable for cleaning cars, cupboards, and tight areas that require cleaning.
However, in the general sense of flooring and vacuum cleaners, handhelds are the least suitable for any type of floor. While handheld will undoubtedly do a good job of cleaning your floor, it'll also take a considerable amount of time.
While a handheld is a must-have, don't make the mistake of making it your primary vacuum cleaner.
Stick Vacuum Cleaner
Stick vacuum cleaners are considered one of the best choices for hardwood floors. Although small and less powerful, the stick vacuum cleaner is notorious for cleaning out tight spaces and handling small closets efficiently.
Stick vacuums are also a good choice for carpets, rugs, and small apartments. However, keep them away from heavily filthy surfaces.
Notwithstanding their slender design, stick vacuums can last for up to 8 years if properly maintained.
Robotic Vacuum Cleaner
The last on our list is one of the latest inventions in the vacuum world. Robot vacuum cleaners are effective cleaners and are capable of self-operation. Robot vacuum cleaners are suitable for most floor types and can clean tight corners.
Vacuum Cleaners With The Best Suction Power
Suction power should be considered a very significant factor when buying a vacuum cleaner. You want the highest suction power, especially for rugs and tight corners. Low suction vacuum cleaners will only remove the surface dirt while leaving the more harmful waste inside your rug or flooring.
Suction power is simply the pull of a vacuum cleaner in extracting dust and dirt from any surface. Suction power is measured using different S. I units, which include the most popular, Watts, and several others including Air watts, Amps, Airflow, and Horsepower.
Suction power is usually higher with lightweight vacuum cleaners as they have fewer attachments and accessories. The lighter the vacuum cleaner and the fewer the accessories, the higher the suction power.
However, it is worthy to note that Shop-vac vacuum cleaners have more suction power but are not suitable for indoor use. Shop-vacs have a poor filtration system and would simply blow back dust into your living space. However, you can get a shop-vac with a HEPA filter for your backyard and curb.
Do you need higher suction power? Probably not. Higher suction power is mostly for outdoor purposes as the noise produced with higher power can be disturbing for residential living. Also, higher suction means higher energy bills.
Vacuum cleaners with suction power between 185-350 AW are considered adequate for indoor cleaning. Although, you're allowed to go higher or lower, depending on your needs.
Wet and dry vacuum cleaners
While you're likely on the market for an indoor vacuum cleaner, you may also need a shop-vac vacuum, also known as wet/dry vacuums. A shop-vac is used for cleaning industrial areas and larger spaces. It is most suitable for bigger chores and when you need to clean areas without protection from special elements.
Wet vacuums are capable of removing dirt, dust, and water without suffering any form of damage, unlike dry and regular vacuum. Dry vacuums, however, can be used indoors because of their high suction power but wet vacuums will only leave a mess and spoil your air. However, you can still use wet vacuums to dry wet indoors by adding a HEPA filter.
Wet vacuums also have a blowing function that can work to repair water damage in your basement and garage.
Dry/Wet vacuum cleaners are good for homeowners with big curbs and backyards. It helps to keep their surroundings neat.
Note: don't use a dry vacuum cleaner for wet areas as it could damage the vacuum and may even cause electrocution if there's an inconspicuous electrical fault.
Owning a dry/wet vacuum cleaner can come in handy.
Factors To Consider when choosing a vacuum cleaner
Buying a vacuum cleaner is a need that requires careful consideration. You don't want to have a vacuum cleaner that doesn't suit your style, cleaning needs, size of your apartment, and is too expensive for your limited budget.
Here are some factors to consider when buying a vacuum cleaner for your home.
Do you live in an apartment?
Apartments are smaller living spaces with a constant need for space. So when buying your vacuum cleaner, you need to think of portability and size. You don't want something that'll take up too much space or that would be difficult to easily move within the house.
The best choice for an apartment or any small space is a robot vacuum cleaner. These bad boys are fitted with several sensors that help to find and pick dirt. A robot vacuum cleaner also takes the cleaning right from you as it does it autonomously. Meaning you could be at work while it makes your home clean. Robot vacuum cleaners are small and cordless, with rechargeable batteries.
If you like something more handheld, then go for the canister vacuum cleaner which allows your manual control.
Whatever vacuum cleaner you choose for an apartment should be portable and small. You don't want your vacuum cleaner running into other objects in your home.
Do you live in a bigger space?
A bigger home has bigger space and bigger cleaning needs. Unlike your previous apartment, you'll need to spend a considerable amount of time cleaning your bigger home. A small and portable vacuum cleaner might look tempting and stylish, but buying that will only leave you with a half-clean house with more workload.
Bigger spaces require bigger vacuum cleaners that have a longer hose, cord, and are capable of covering larger spaces. Your best choice in this category is the Upright vacuum cleaner. Although big and far from portable, the upright vacuum cleaner cleans bigger homes in less time when compared to other types of vacuum cleaners.
Since your cleaning would cough out plenty of dirt, debris, and dust, you need a vacuum cleaner with big bags to retain dust. Having to empty your bag while cleaning can be frustrating.
What's the purpose of the vacuum cleaner
This is where most homeowners get it wrong. Buying a vacuum cleaner shouldn't be another random purchase for your home. While we can all agree that a vacuum cleaner is generally for cleaning, it is important to note that one type of vacuum cleaner may not be designed for specific areas and tasks.
Are you buying a vacuum cleaner to clean your indoors or you want one for the wet outdoors? Is the vacuum cleaner to help take the labor off your hands?
An Indoor vacuum cleaner will clean the indoors perfectly and remain in good working condition, however, using it outdoors where it comes in contact with water will damage it. Also, it wouldn't do a good job of cleaning your backyard and curb.
It is important to note the purpose of the vacuum cleaner before purchase as it helps you to choose the right one for your needs.
What are the maintenance needs?
The maintenance needs of your type of floor will determine the type of vacuum to purchase. Some floor materials collect dirt and dust more than others. For example, carpets can hold dirt and dust and you need a vacuum cleaner with a brush roll that can dig into the carpet to collect waste.
Buying the right vacuum cleaner helps to extend the lifespan of your flooring. For example, a well-vacuumed and maintained hardwood floor can reach 100 years, outliving a whole generation.
You can ask your flooring experts for the maintenance needs of your floor or simply search on the internet.
Filtration
A vacuum cleaner could affect the air inside your home. You want a vacuum cleaner with a terrific filter operation that properly traps dust and dirt, keeping them from blowing back into your living space.
Advanced filtrations are HEPA certified to remove 99.7 of particles from your home. This additional feature helps to remove bacteria from your home that could cause sickness. It is also fantastic for homeowners and occupants with allergens.
Hardwood, linoleum, tile, and bamboo are great flooring picks for people suffering from allergies.
You should properly maintain your vacuum filter. Make sure the filter is working optimally and hasn't been blocked by dust or molds.
Cost
Last but definitely not least, is the cost of vacuum cleaners. Expensive vacuum cleaners may offer better functions and features, however, it's best to stay within your financial limits.
Robotic vacuum cleaners can cost up to $300 while canister vacuum cleaners are available for as low as $50. However, for better quality and more features, you may buy the HEPA canister vacuum cleaner for $800.
While cost may determine the number of functions and features packed into a vacuum cleaner, cheaper vacuums can still offer basic functions that will help keep your home sparkling clean.
5 best Vacuum Cleaners
Just like most home appliances, vacuum cleaners also have a ranking based on performance, functions, cost, and ease of use. If you're searching for the best deal, then here are 5 of the best Vacuum Cleaners in the market.
Miele Complete C3 Powerline
First on our list is the Miele complete C3 powerline because of its versatility and HEPA filter. This heavy corded vacuum comes with adjustable and efficient suction power, making it right for all types of floors. Miele Complete C3 powerline works best with carpet, hardwood, cars, and cat litter.
Dyson V15 Detect
Dyson V15 detect is a multi-surface vacuum capable of cleaning stairs, bare floors, cars, and carpets. Dyson V15 also has a good filtration system that not only filters dust and dirt but also prevents allergens.
Dyson functions on batteries, therefore, are free from the restrictions of a cord, making it one of the most portable high suction vacuum cleaners. This vacuum is also capable of cleaning out tight corners effectively.
The Dyson V15 detect also comes with various important attachments that help you clean better. It also has a long lifespan if properly maintained.
iRobot Roomba S9
The iRobot Roomba S9 is an expensive option for a robot vacuum cleaner. However, this self-autonomous vacuum cleaner is capable of cleaning different surfaces such as bare floors, carpets, and pets.
The iRobot Roomba S9 cleans efficiently and is rated highly among users. There is a lower risk of your vacuum bumping into objects at home as you can have a virtual boundary to restrict it to a specific space.
The iRobot Roomba S9 is cordless, features HEPA anti-allergen filter, and is bagless.
With proper consistent maintenance, the iRobot Roomba S9 should reach the median lifespan.
Eureka whirlwind bagless canister
The Eureka whirlwind bagless canister is one of the cheapest bagless canisters, costing only $88.45 on Amazon. It is a multi-surface vacuum cleaner capable of handling several surfaces, including bare floors, carpets, cars, and pets.
This product is portable and incredibly lightweight. It can also be used as a handheld. If you're on a budget, then the Eureka Whirlwind Bagless Canister is for you.
However, this product lacks the HEPA filter, making it low on air filtration.
Neato D8
The last on our list, Neato D8 is another high-performing vacuum, capable of cleaning tough surfaces. The Neato DS is a robot vacuum, cordless, bagless, and features the HEPA anti-allergen filter. It costs about $499.99 and is easily maintained. The Neato D8 is perfect for busy people who would profit immensely from an automated cleaning appliance.
Some Necessary Cautions
Don't use vacuum cleaners without a HEPA filter indoors if you or any of the other occupants have allergens.
Maintain regularly and replace when appropriate.
Conclusion
Consider your cleaning needs and the material of your floor before buying your first vacuum cleaner. If you're usually busy with work or other house chores, a robot vacuum cleaner will be beneficial to you. However, if you're cleaning bigger spaces manually, then an upright or canister vacuum will come in handy.
Don't forget to also consider your budget. While expensive vacuum cleaners offer more functions and features, lesser-priced vacuums are also efficient at performing a good job.